Technotraining has been a quality approved provider for Quality and Qualifications Ireland (QQI) for over a decade.
Quality-assured qualifications
Having an internationally recognised, quality-assured QQI-certified award demonstrates your competence and builds trust with customers or potential employers. If you are a small business or contractor, you may be looking to gain certification as a way of demonstrating your competence in delivering a wider range of life safety services. Employers looking to ensure the safe operation of their organisation know that quality-assured assessments mean their in-house technicians have been objectively judged to have reached the standard required.
What is Quality and Qualifications Ireland (QQI)?
Quality and Qualifications Ireland (QQI) is a state agency established by the Qualifications and Quality Assurance (Education and Training) Act 2012. Approved and registered providers such as Technotraining must meet comprehensive quality assurance requirements to ensure that learners receive an engaging, positive, and high-quality experience.
QQI approves programmes delivered at schools, colleges, further education establishments, third-level institutions, and training companies that result in Irish National Framework of Qualifications (NFQ) qualifications. Learners receive a QQI award when they successfully complete a course at any of the 10 levels of the NFQ.
Because of the relationship between the Irish NFQ and the European Qualifications Framework (EQF) and the European Higher Education (EHEA) Qualifications Frameworks, our QQI-accredited courses will provide an internationally recognised certification if you pass.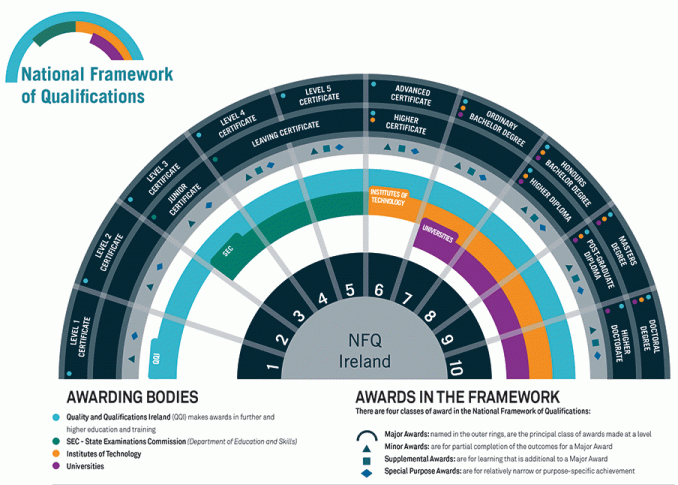 The fundamental philosophy behind all these national and international frameworks is recognition, progression, and transfer. This means you are getting a quality qualification that, should you need to use it in another country in Europe, won't require you to re-qualify. It also offers you the opportunity to build on your knowledge and accumulate credits to progress through to a doctorate-level qualification.
How Technotraining works with QQI
Becoming a registered provider for QQI involves a rigorous and documented process in which we guarantee:
Oversight
Governance
Monitoring
Documentation
Continuous improvement
Every area of the business is geared towards ensuring we deliver an evidence-based and quality monitored learning experience (instruction, documentation, information, assessment, etc.). In addition, we have a dedicated quality manager who oversees the delivery of our training, with constant auditing and monitoring carried out by an independent external authenticator.
Our learner-centred training system
Our ethos at Technotraining fits well with QQI's focus on a learner-centred system that is relevant to learners' job performance, needs, and career development. This has always been our approach, and we work hard to understand our clients' needs and deliver a lifelong learning structure. This is why our partnership with QQI has proved so successful and long-lasting.
The different types of QQI award
A major award: this shows that an individual has achieved a broad range of skills, often studying many different subjects. A level 5 certificate and the bachelor's degree are examples of well-known major awards on the NFQ.
A non-major award: this shows that an individual has gained a set of skills which are useful for a specific task or work activity. Non-major awards can be used, in a flexible way, to achieve a major award.
A special-purpose award: this is for specific areas of learning that have a narrow scope. All special purpose awards comprise one or more components. At Technotraining, we deliver two special purpose awards – Emergency Lighting System Commissioning (6S0953) and Emergency Lighting System Design (6S0955).